Top IELTS Preparation Institutes in Faisalabad: It is a vibrant city in Pakistan, is a hub for quality IELTS preparation. Aspiring test takers have access to a plethora of top-notch IELTS institutes and academies that have made their mark in the industry.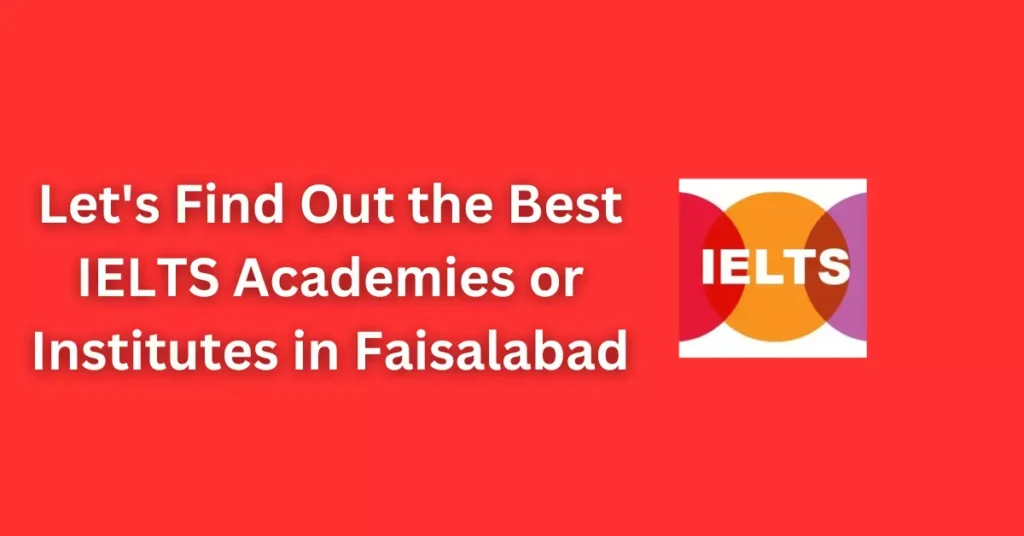 These institutions are known for their excellent educational standards and proven track records of success. With experienced and dedicated faculty, state-of-the-art facilities, and innovative teaching methods, these IELTS institutes provide a conducive learning environment for students.
Moreover, they offer flexible class timings and personalized attention to cater to the unique needs of each learner. We will explore the top eight IELTS institutes in Faisalabad that are making a significant impact on IELTS test preparation.
Read more: 8 Leading English Language Course and Institutes in Faisalabad
List of 8 Best IELTS Preparation Institutes in Faisalabad
Here are the list of best Ielts preparation Institutes. lets find out for you.
#1. Westway Linguistics IELTS Institute Faisalabad
Westway Linguistics IELTS Institute in Faisalabad stands out as a leading institution for IELTS preparation. With a strong emphasis on quality education, Westway Linguistics offers comprehensive courses tailored to meet the diverse needs of students.
The institute boasts a team of highly qualified and experienced instructors who provide expert guidance and support throughout the learning journey. Equipped with modern facilities and resources, Westway Linguistics ensures a stimulating learning environment.
They offer flexible class timings, mock tests, and individualized attention to help students excel in the IELTS exam. With a stellar reputation and a proven track record of success, Westway Linguistics is a top choice for IELTS aspirants in Faisalabad.
Website: https://westway-linguistics.business.site/
Phone: 0321 6662650
Address: Office No 33, Mediacom Shopping Centre, Mezzanine Floor Faisalabad
---
#2. 4Skills
4Skills, formerly known as ELC, has been operating since 2017 as a prominent IELTS institute in Faisalabad. With a focus on providing comprehensive IELTS preparation, their service section "English Language Club" offers classes for both IELTS Academic and IELTS General Training.
Recognized as one of the best IELTS coaching institutes in the city, 4Skills also offers PTE Academic preparatory classes, which include valuable tips, tricks, and computer lab practice.
Students seeking guidance for IELTS and PTE training can visit 4Skills for assistance. Additionally, the institute provides English Spoken Courses and Life Skills A1 for UK spouse visa applicants. [Top IELTS Institutes in Faisalabad]
Website: N/A
Maybe you need this: Best Computer Short Courses in Faisalabad – Top 13 Institutes
Phone: 0332 2410155
Address: Office# 96-97 A First Floor, Koh-e noor-1 Plaza, Jaranwala Rd, Kohinoor City, Faisalabad.
Recommended: How to Find the Best IELTS Preparation Institute in Faisalabad
Maybe you need to get: 9th Class Guess Papers 2023 All Subjects Download
---
#3. English Council Consultants
English Council Consultants IELTS Institute is a highly regarded institution, recognized as a Gold-level IELTS partner. The institute adopts a state-of-the-art psychological approach to teaching, creating a relaxed and motivating learning environment.
Their advanced yet simple methodology has helped over seven thousand students achieve their desired scores. The institute offers guaranteed classes, assessing students' strengths and weaknesses based on their educational backgrounds.
Students are trained and tested according to the latest Cambridge IELTS Test pattern. Unlike conventional methods, the institute focuses on enhancing reading speed, fostering idea generation, and organizing 20-30 mock tests to ensure thorough preparation.
Website: https://english-council.business.site/
Phone: 0307 8678636
Address: 553-B Rex City Rd, D Ground Block B People's Colony No 1, Faisalabad.
Get also: 10th Class Guess Papers 2023 All Subject Punjab Boards
---
#4. Prolific IELTS Academy
Established in 2013, Prolific IELTS Academy offers top-notch test preparation for IELTS, TOEFL, PTE, and CAE. With certified coaches, they provide group coaching, online classes, and customized training worldwide.
They also assist with test registrations for British Council, AEO, IDP, and Duolingo English Test. Prolific has a remarkable record, producing numerous candidates with a perfect band score of 9.0 in IELTS Academic and General Training. Experience excellence with Prolific IELTS Academy.
Website: https://www.prolificcnt.com/
Phone: 0301 8717299
Address: 559-B, near Ideal Sweets & Bakers, People's Colony No 1, Faisalabad.
See must: 10 Best YouTube Channels for Ielts Preparation – Save Money
---
#5. British Institute Faisalabad
Looking for a renowned IELTS institute in Faisalabad, Punjab? Look no further than the esteemed British Institute. With a commitment to providing top-notch education, their qualified faculty follows international standards.
What sets them apart? Their unique ability to train students swiftly without compromising quality. Don't miss out on this opportunity!
Enroll now and embark on your journey to IELTS success at the British Institute. Elevate your skills, achieve your dreams, and unlock a world of opportunities. The time to act is now!
Website: https://britishinstitute.online/
Phone: 0333 6601651
Address: AMIN PUR BAZAR CORNER KOTWALI ROAD FAISALABAD
---
British Institute Faisalabad
Phone: 0333 6545083
Address: 719/2 Satayana Rd، Batala Colony, near Chun n Cheese Pizza, Faisalabad
---
#6. KAPLAN [Top IELTS Institutes in Faisalabad]
Step into the world of success with KAPLAN Institute, your gateway to acing international tests. Prepare for TOEFL, IELTS, SAT, GMAT, and GRE with our expert guidance. But that's not all! Our comprehensive English language training program is designed for fluent speakers who struggle to express themselves.
Unlock your true potential and unleash your linguistic prowess with KAPLAN. Join us today and witness a transformation in your language skills. Don't let language barriers hold you back. Empower yourself and conquer the world with KAPLAN Institute.
Website: N/A
Phone: 0333 8531155
Address: 107/A, Block A People's Colony No 1, Faisalabad.
Read more: What is IELTS Course in Pakistan
---
#7. Career Institute Faisalabad
Established in 2010, Career Institute in Faisalabad has become a global leader in Business, Security, and Information Technology education. With a student base exceeding 10,000, the institute offers up-to-date course content and highly skilled instructors.
The dedicated job placement cell tirelessly works to connect students with prospective employers, ensuring promising career opportunities in their respective fields. Join Career Institute today and embark on a path to success in the dynamic world of business, security, and IT. [Top 8 IELTS Institutes in Faisalabad]
Maybe you need it in Future: Top 6 Best Chinese Language Course Institutes in Faisalabad
Phone: 0300 7662050
Phone: 0315 8580027
Address: B, P-165, 262 Millat Rd, Millat Chowk Faisalabad.
---
#8: ABN Overseas Education
ABN was established by a team with extensive experience in overseas education. We're a leading educational consultancy in Pakistan, bridging students to top-ranking global institutions. Our expertise lies in providing visa assistance and valuable guidance tailored to high-commission requirements.
We take pride in our track record of securing maximum student visas. Our goal is to promote cross-cultural education by facilitating student placements in colleges and universities worldwide.
Phone: 0320 2820005
Address: 1st Floor, P-6, above Nando's Main Boulevard, Kohinoor City, Faisalabad
Hopefully it will help you to find best Ielts preparation academies near you.`